SHP in the News
Oct

25

LBBJ: Oil and Gas Focus 2019

The Long Beach Business Journal recently published an article discussing how the …
Read News Article

Jun

03

SHP Sponsors Movies in the Park 2019

The Grunion recently featured an article sharing the 2019 Long Beach Movies in the …
Read News Article
Press Releases
Oct

18

2017 Oilman of the Year

Signal Hill Vice President of Operations Wins Oilman of the Year Award  Signal Hill, …
Read News Article

Nov

14

SHP Celebrated New Drive-Thru Starbucks

November 14, 2014 – Signal Hill, CA –The Signal Hill Gateway Center, operated by …
Read News Article
SHP Voice
Nov

14

2019 Oilman of the Year

Signal Hill Petroleum is honored to announce their Executive Vice President and Chief …
Read News Article

Nov

07

SHP Donates To Pyles Boy Camp

Signal Hill Petroleum presented a $15,000 check to RM Pyles Boys Camp at their board …
Read News Article
SHP Wins 2014 E&P Company of the Year
October 29, 2014

LONG BEACH, CA – Wednesday, October 29, 2014 – Signal Hill Petroleum, Inc. (SHP), a leading producer of sustainable oil and gas based in Signal Hill, CA, announced that it has won the TEEMCO E&P Company of the Year Award at the 2014 West Coast Oil and Gas Awards, held in Bakersfield, CA on Tuesday, October 21.  SHP won the award for demonstrating impressive operational performance, commercial success, shown efforts to minimize any environmental impact and outstanding CSR initiatives.

"It's an incredible honor to accept the TEEMCO E&P Company of the Year Award on behalf of Signal Hill Petroleum," said SHP President and CEO Craig Barto. "I'd like to thank the dedicated employees of Signal Hill Petroleum for their commitment to sustainability, community, and technology-driven innovation that have brought us to where we are today."

Signal Hill Petroleum scored the most points in the category with such comments from the judging panel as:

"Very impressive internal and external programs – community involvement and development and graduate education support for professionals. Made great strides in operating in an urban environment."

 

"Signal Hill's commitment to the communities in which the company operates is what sets it apart.  Through use of sustainability programs, innovative exploration and extraction techniques, environmental/emission controls and community enhancement programs, the company appears to be able to work very successfully in an urban environment where other companies may struggle."

 

An innovator in the area of urban oil operations, Signal Hill Petroleum owns and operates approximately 95% of the wells in the Long Beach/Signal Hill Oilfield. During its three decades of operation, Signal Hill Petroleum has developed a unique expertise not only in urban oil and gas production operations, but also in urban drilling and seismic exploration.

About Signal Hill Petroleum

Signal Hill Petroleum is a privately owned California-based energy company that specializes in the exploration, development and production of crude oil and natural gas in urban areas. With a set of core values rooted in a transparent business philosophy, honest approach, and concern for the environment, the company strives to be an excellent neighbor and community partner.

 

About The Oil And Gas Awards

The Oil and Gas Awards recognize and reward advancements made by the oil and gas industry in the areas of environmental stewardship, efficiency, innovation, corporate social responsibility and health and safety. Winners were announced at the inaugural 2014 West Coast Oil and Gas Gala Event at the Bakersfield Marriott at the Convention Center. A panel of 110 industry executives judged the West Coast Oil & Gas Awards with over 120 companies participating across multiple categories.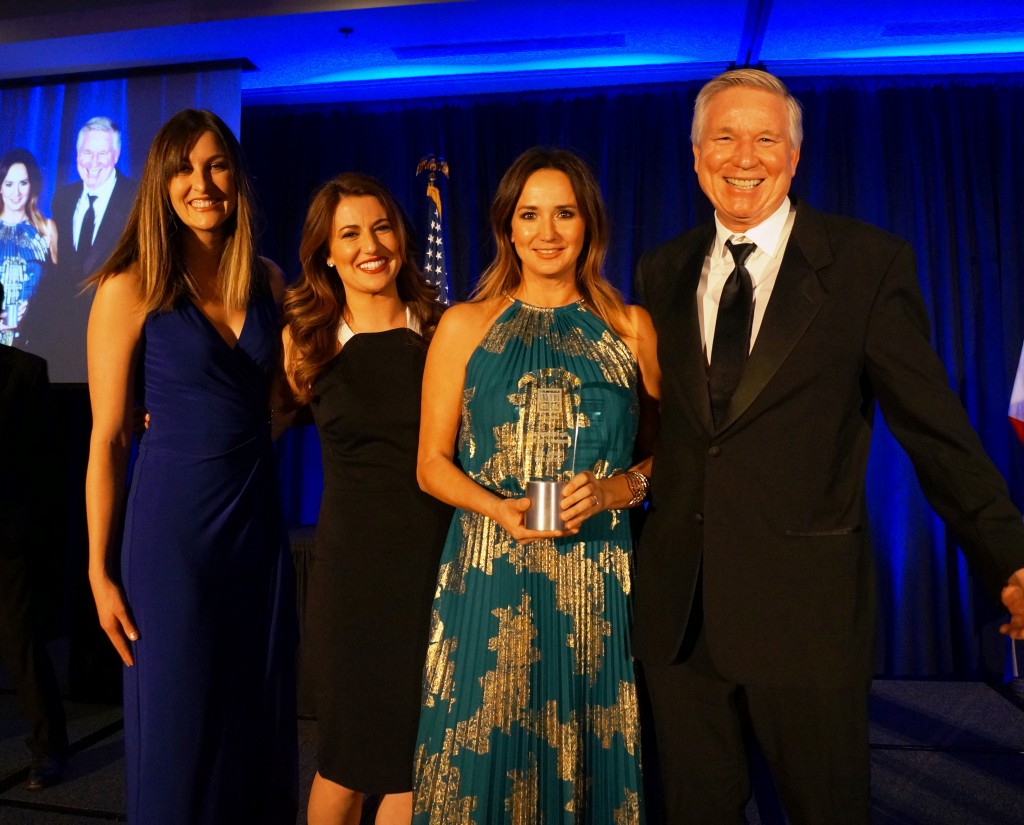 Pictured From Left: SHP Land Manager Sarah Bobbe, SHP Community Relations Specialist Stefanie Gillett, SHP Director of Community Relations and Business Development Debra Montalvo Russell and SHP President and CEO Craig Barto accept the TEEMCO E&P Company of the Year Award at the 2014 Oil & Gas Awards