SHP in the News
Oct

25

LBBJ: Oil and Gas Focus 2019

The Long Beach Business Journal recently published an article discussing how the …
Read News Article

Jun

03

SHP Sponsors Movies in the Park 2019

The Grunion recently featured an article sharing the 2019 Long Beach Movies in the …
Read News Article
Press Releases
Oct

18

2017 Oilman of the Year

Signal Hill Vice President of Operations Wins Oilman of the Year Award  Signal Hill, …
Read News Article

Nov

14

SHP Celebrated New Drive-Thru Starbucks

November 14, 2014 – Signal Hill, CA –The Signal Hill Gateway Center, operated by …
Read News Article
SHP Voice
Dec

04

Salvation Army "Golden Kettle" Award

Yesterday afternoon Signal Hill Petroleum was honored to receive the "Golden Kettle" …
Read News Article

Nov

14

2019 Oilman of the Year

Signal Hill Petroleum is honored to announce their Executive Vice President and Chief …
Read News Article
Geology Rocks!
July 19, 2019

SHP recently participated in the annual Rancho Los Cerritos Mud Mania event. This event is a celebration of adobe which is what was used to construct the home at Rancho Los Cerritos back in 1844. Visitors at Mud Mania were able to experience mud themed activities all while learning about Southern California's rich history.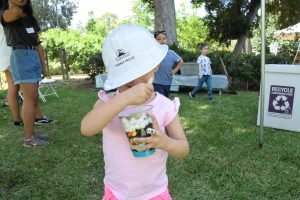 This year SHP decided to create a booth based around the geology of where adobe comes from. What better way to learn about the different layers of the earth than to eat it? Kids participated in our edible geology craft where they were able to construct a visual representation of the different geological layers and learn where and how crude oil is made. SHP geologist Katie Kovac volunteered at the booth and was able to answer lots of great questions and made learning about the different rock formations fun! It was easy to see that this hands-on experience was a hit!
For more information about Rancho Los Cerritos and all their events click here.