SHP in the News
Jun

03

SHP Sponsors Movies in the Park 2019

The Grunion recently featured an article sharing the 2019 Long Beach Movies in the …
Read News Article

Mar

26

LBBJ: Focus on Signal Hill 2019

SHP's Executive VP and COO, David Slater, recently interviewed for the Long Beach …
Read News Article
Press Releases
Oct

18

2017 Oilman of the Year

Signal Hill Vice President of Operations Wins Oilman of the Year Award  Signal Hill, …
Read News Article

Nov

14

SHP Celebrated New Drive-Thru Starbucks

November 14, 2014 – Signal Hill, CA –The Signal Hill Gateway Center, operated by …
Read News Article
SHP Voice
Aug

13

New Library Opens Its Doors

After almost 20 years of planning, the new Signal Hill Library has finally opened its …
Read News Article

Jul

19

Geology Rocks!

SHP recently participated in the annual Rancho Los Cerritos Mud Mania event. This …
Read News Article
Mud Mania 2018
July 10, 2018

SHP recently participated in the annual Rancho Los Cerritos Mud Mania event. This event is for children and visitors to learn about Southern California's rich history. Adobe is one of the oldest building materials. Traditionally sun-dried, adobe blocks made of sand, clay, water and straw were used to construct the home at Rancho Los Cerritos back in 1844. At Mud Mania, visitors were able to experience mud-themed activities including digging through adobe soil, making real adobe bricks and much more. Since the theme of the event focused on mud/soil, SHP decided to create their booth based around the geology of where it comes from.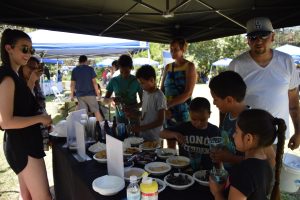 At the SHP table, children were able to construct a visual representation of the different geological layers of the earth and learn where and how crude oil is made by using edible materials. Blue frosting was the first layer which represented the ocean, followed by chocolate syrup which was crude oil, marshmallows were natural gas, graham crackers were shale, M&M's were limestone, ground up Cheerios was sandstone and crushed Oreo's was soil. It was a great hands on activity that kept the kid's interest and allowed them to learn along the way. SHP is a proud supporter of Mud Mania and Ranch Los Cerritos and plans to continue sponsoring these educational events in the future.
For more information about Rancho Los Cerritos and all of their events click here.